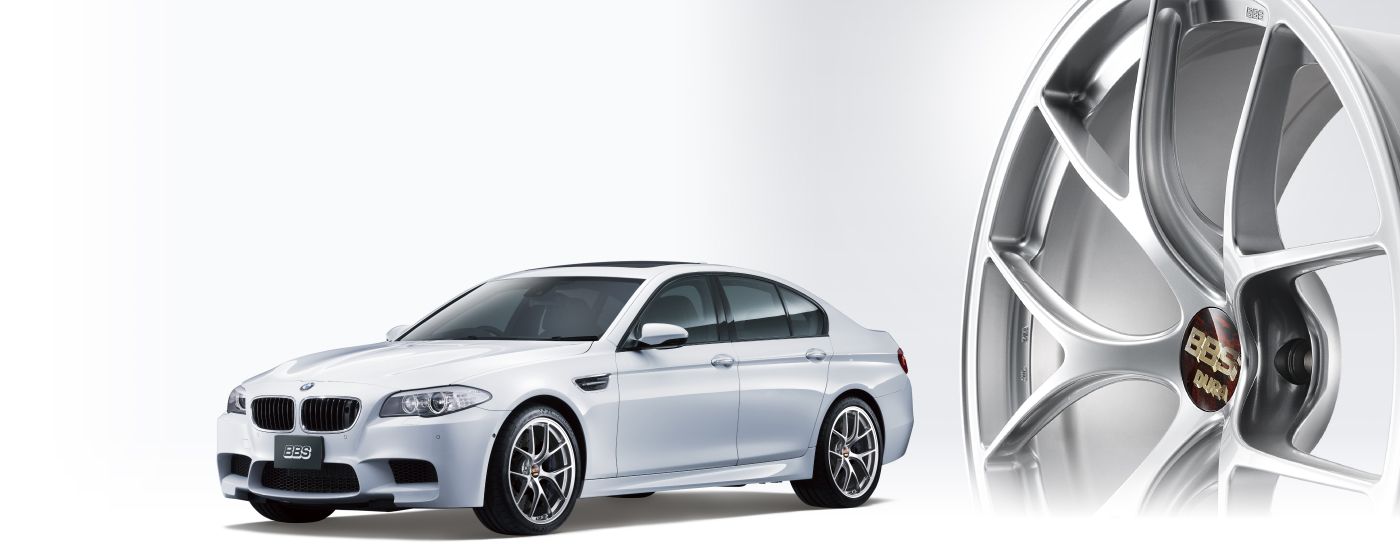 Forged extra-super duralumin 1-piece wheel
RI-D
This wheel was introduced by BBS in 2011 as the world's only* forged extra-super duralumin wheel. Going beyond even the super-strong aluminum alloy duralumin, extra-super duralumin is valued in the aerospace industry for its ultra-high strength and durability. Taking advantage of these characteristics, this ultra-light wheel features a design with 5 cross spokes. *BBS research as of January 2016
Diamond Silver (DS)

Diamond Black (DB)

Matte Black (MB)
| TYPE | SIZE | INSET | H/P.C.D | PFS/BORE | WEIGHT | PRICE | Without tax |
| --- | --- | --- | --- | --- | --- | --- | --- |
| RI060 | 19×8.0 | 48 | 5/112.0 | PFS | 7.4kg | ¥217,080 | ¥201,000 |
| RI061 | 19×8.5 | 38 | 5/112.0 | PFS | 7.7kg | ¥220,320 | ¥204,000 |
| RI038 | 19×8.5 | 43 | 5/112.0 | PFS | 7.7kg | ¥220,320 | ¥204,000 |
| RI020 | 19×8.5 | 38 | 5/114.3 | PFS | 7.5kg | ¥220,320 | ¥204,000 |
| RI005 | 19×8.5 | 43 | 5/114.3 | PFS | 7.3kg | ¥220,320 | ¥204,000 |
| RI022 | 19×8.5 | 35 | 5/120.0 | PFS | 7.4kg | ¥220,320 | ¥204,000 |
| RI067 | 19×8.5 | 51 | 5/120.0 | PFS | 7.7kg | ¥220,320 | ¥204,000 |
| RI007 | 19×8.5 | 53 | 5/130.0 | 71.6 | 7.6kg | ¥225,720 | ¥209,000 |
| RI016 | 19×9.0 | 28 | 5/108.0 | 67 | 7.6kg | ¥223,560 | ¥207,000 |
| RI039 | 19×9.0 | 55 | 5/112.0 | PFS | 7.6kg | ¥223,560 | ¥207,000 |
| RI036 | 19×9.0 | 42 | 5/114.3 | PFS | 7.6kg | ¥223,560 | ¥207,000 |
| RI001 | 19×9.0 | 22 | 5/120.0 | 72.5 | 7.5kg | ¥223,560 | ¥207,000 |
| RI048 | 19×9.0 | 26 | 5/120.0 | PFS | 7.5kg | ¥223,560 | ¥207,000 |
| RI052 | 19×9.5 | 50 | 5/112.0 | PFS | 8.0kg | ¥226,800 | ¥210,000 |
| RI062 | 19×9.5 | 56 | 5/112.0 | PFS | 7.8kg | ¥226,800 | ¥210,000 |
| RI021 | 19×9.5 | 45 | 5/114.3 | PFS | 7.7kg | ¥226,800 | ¥210,000 |
| RI006 | 19×9.5 | 53 | 5/114.3 | PFS | 7.6kg | ¥226,800 | ¥210,000 |
| RI031 | 19×9.5 | 25 | 5/120.0 | PFS | 7.9kg | ¥226,800 | ¥210,000 |
| RI023 | 19×9.5 | 45 | 5/120.0 | PFS | 7.7kg | ¥226,800 | ¥210,000 |
| RI037 | 19×10.0 | 33 | 5/114.3 | PFS | 8.2kg | ¥230,040 | ¥213,000 |
| RI002 | 19×10.0 | 25 | 5/120.0 | 72.5 | 7.7kg | ¥230,040 | ¥213,000 |
| RI032 | 19×10.0 | 35 | 5/120.0 | PFS | 8.1kg | ¥230,040 | ¥213,000 |
| RI049 | 19×10.0 | 37 | 5/120.0 | PFS | 8.0kg | ¥230,040 | ¥213,000 |
| RI017 | 19×10.5 | 35 | 5/108.0 | 67 | 8.2kg | ¥233,280 | ¥216,000 |
| RI033 | 19×10.5 | 35 | 5/120.0 | PFS | 8.3kg | ¥233,280 | ¥216,000 |
| RI008 | 19×11.0 | 63 | 5/130.0 | 71.6 | 8.4kg | ¥241,920 | ¥224,000 |
| RI009 | 19×12.0 | 51 | 5/130.0 | 71.6 | 8.9kg | ¥248,400 | ¥230,000 |
| TYPE | SIZE | INSET | H/P.C.D | PFS/BORE | WEIGHT | PRICE | Without tax |
| --- | --- | --- | --- | --- | --- | --- | --- |
| RI026 | 20×8.5 | 30 | 5/112.0 | PFS | 8.1kg | ¥248,400 | ¥230,000 |
| RI027 | 20×8.5 | 41 | 5/112.0 | PFS | 7.9kg | ¥248,400 | ¥230,000 |
| RI072 | 20×8.5 | 14 | 5/120.0 | PFS | 8.2kg | ¥248,400 | ¥230,000 |
| RI012 | 20×8.5 | 50 | 5/130.0 | 71.6 | 8.1kg | ¥253,800 | ¥235,000 |
| RI050 | 20×9.0 | 20 | 5/112.0 | PFS | 8.4kg | ¥251,640 | ¥233,000 |
| RI040 | 20×9.0 | 55 | 5/112.0 | PFS | 8.0kg | ¥251,640 | ¥233,000 |
| RI034 | 20×9.0 | 35 | 5/114.3 | PFS | 8.4kg | ¥251,640 | ¥233,000 |
| RI042 | 20×9.0 | 42 | 5/114.3 | PFS | 8.3kg | ¥251,640 | ¥233,000 |
| RI014 | 20×9.0 | 44 | 5/114.3 | 67 | 8.4kg | ¥251,640 | ¥233,000 |
| RI030 | 20×9.0 | 27 | 5/120.0 | PFS | 8.4kg | ¥251,640 | ¥233,000 |
| RI010 | 20×9.0 | 32 | 5/120.0 | PFS | 8.1kg | ¥251,640 | ¥233,000 |
| RI046 | 20×9.5 | 45 | 5/114.3 | 66 | 9.0kg | ¥260,280 | ¥241,000 |
| RI018 | 20×9.5 | 48.4 | 5/114.3 | 67 | 8.4kg | ¥260,280 | ¥241,000 |
| RI073 | 20×9.5 | 14 | 5/120.0 | PFS | 8.5kg | ¥254,880 | ¥236,000 |
| RI076 | 20×9.5 | 28 | 5/120.0 | PFS | 8.4kg | ¥254,880 | ¥236,000 |
| RI051 | 20×10.0 | 19 | 5/112.0 | PFS | 8.9kg | ¥258,120 | ¥239,000 |
| RI028 | 20×10.0 | 45 | 5/112.0 | PFS | 8.4kg | ¥258,120 | ¥239,000 |
| RI035 | 20×10.0 | 25 | 5/114.3 | PFS | 8.7kg | ¥258,120 | ¥239,000 |
| RI043 | 20×10.0 | 35 | 5/114.3 | PFS | 8.8kg | ¥258,120 | ¥239,000 |
| RI003 | 20×10.0 | 35 | 5/114.3 | 66 | 9.0kg | ¥263,520 | ¥244,000 |
| RI011 | 20×10.0 | 34 | 5/120.0 | PFS | 8.6kg | ¥258,120 | ¥239,000 |
| RI024 | 20×10.0 | 43 | 5/120.0 | PFS | 8.6kg | ¥258,120 | ¥239,000 |
| RI047 | 20×10.5 | 25 | 5/114.3 | 66 | 9.3kg | ¥266,760 | ¥247,000 |
| RI029 | 20×11.0 | 50 | 5/112.0 | PFS | 8.7kg | ¥264,600 | ¥245,000 |
| RI041 | 20×11.0 | 58 | 5/112.0 | PFS | 8.9kg | ¥264,600 | ¥245,000 |
| RI004 | 20×11.0 | 15 | 5/114.3 | 66 | 9.5kg | ¥270,000 | ¥250,000 |
| RI015 | 20×11.0 | 50 | 5/114.3 | 67 | 9.2kg | ¥264,600 | ¥245,000 |
| RI025 | 20×11.0 | 22 | 5/120.0 | PFS | 9.1kg | ¥264,600 | ¥245,000 |
| RI068 | 20×11.0 | 48 | 5/120.0 | PFS | 9.1kg | ¥270,000 | ¥250,000 |
| RI013 | 20×11.0 | 68 | 5/130.0 | 71.6 | 8.8kg | ¥270,000 | ¥250,000 |
| RI019 | 20×11.5 | 71.6 | 5/114.3 | 67 | 9.2kg | ¥273,240 | ¥253,000 |
| | |
| --- | --- |
| RI001 | BMW M4 M Carbon Ceramic Brake System Settings cars not fitted. |
| RI003 | Suitable for run-flat tire, anti-slip paint applied on the tire bead flange |
| RI004 | Suitable for run-flat tire, anti-slip paint applied on the tire bead flange |
| RI007 | Anti-slip paint applied on the tire bead flange. |
| RI008 | Anti-slip paint applied on the tire bead flange. |
| RI009 | Anti-slip paint applied on the tire bead flange. |
| RI010 | BMW M4 M Carbon Ceramic Brake System Settings cars not fitted |
| RI011 | BMW M4 M Carbon Ceramic Brake System Settings cars fitted.(Rear only) |
| RI012 | Anti-slip paint applied on the tire bead flange. |
| RI013 | Anti-slip paint applied on the tire bead flange. |
| RI014 | Only for run-flat tire. |
| RI015 | Only for run-flat tire. |
| RI018 | Anti-slip paint applied on the tire bead flange. |
| RI019 | Anti-slip paint applied on the tire bead flange. |
| RI031 | BMW M4 M Carbon Ceramic Brake System Settings cars not fitted |
| RI032 | BMW M4 M Carbon Ceramic Brake System Settings cars not fitted |
| RI033 | BMW M4 M Carbon Ceramic Brake System Settings cars not fitted |
| RI046 | Suitable for run-flat tire, anti-slip paint applied on the tire bead flange |
| RI047 | Suitable for run-flat tire, anti-slip paint applied on the tire bead flange |
| RI048 | BMW M4 M Carbon Ceramic Brake System Settings cars not fitted |
| RI049 | BMW M4 M Carbon Ceramic Brake System Settings cars not fitted |
The center emblem will be dula type.(BBS logo will be gold.)

Air Valve

Bolts/Nuts(The wheel size that use of the OEM volts or nuts will not be attached.)

Hubring(Only for the PFS spec size is attached.)
The tuner size may require a change to the body at the customer expense depending on the vehicle model, tire size, tire brand, and more. In selecting the tuner size, please ask a car accessory shop for details before deciding.

Specify whether the center emblem should be black or dula type.

The price is the total amount as of January, 2016. Specifications, prices, etc. may be changed without prior notice.